DAQIN CUSTOM MOBILE CASE MACHINE
3000+ CUSTOMERS ARE USING
"Custom case make money more easily, NO Homegerniztion, MORE Premiunustom. "
— DAQIN's Customer Said
Make it to Unique Phone
This is a simple hero unit, a jumbotron-style component for calling extra attention to some featured content or information.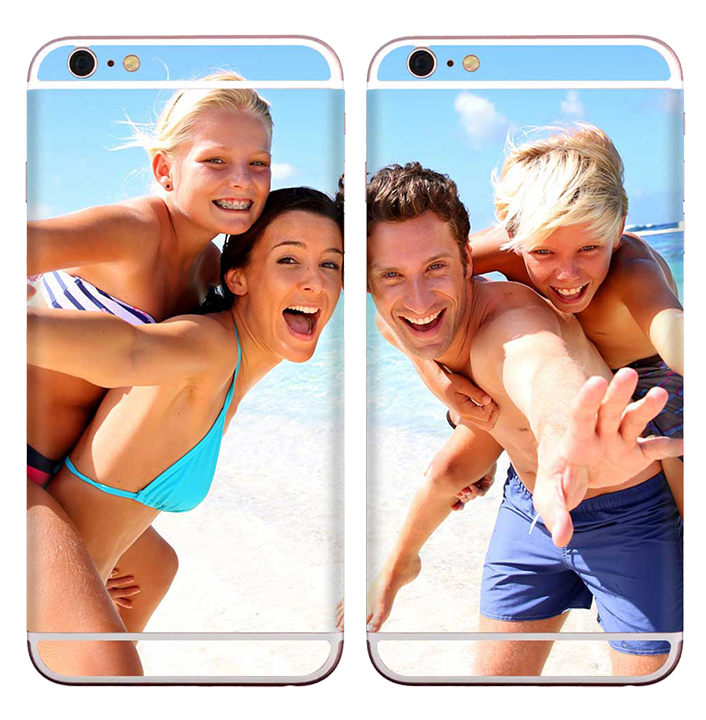 Making Process
Refused to Customize too Slow
Small working space, Visual graphics software operation interface
Mature operation process: Selection of images, designing, production
At one go with all process, 3 minutes delivery.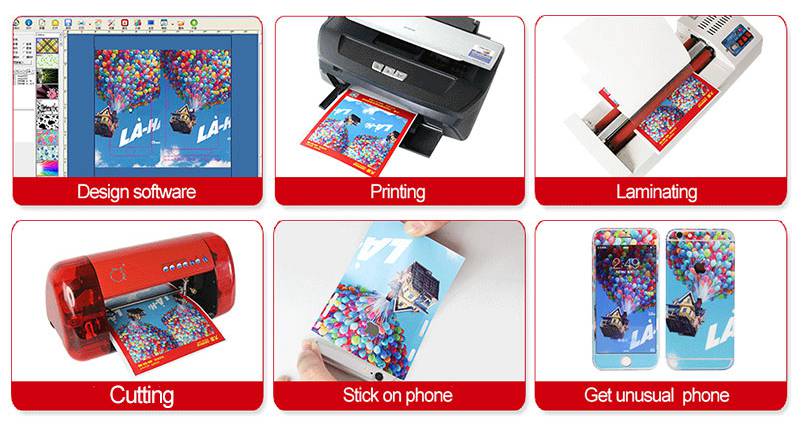 300+ material style, 100+ case style
300+ material style, 100+ case style, Has most species, the most professional wholesale mall. Has the most professional custom case material wholesale mall. On an average day there will be a new material and new style to update.
Why choose item?
● Huge mobile capacity in the market,customized phone case is 300~500% profit higher than common phone cases.
● Unlimited customization of any pictures for any phone model,such as leather,carbon fiber,shining.. etc.
● More and more mobile phone accessories stores join us,leading the unique customized and high profit market trends.
How to choose the machines?
| FEATURE | DIRECT PRINT/UV/SOLVENT | DAQIN CUSTOM CASE MACHINE |
| --- | --- | --- |
| Operational simplicity | Difficult to operate,low yield have led to increased higher cost. | High yield, no wasting of cost , no risk of reject. |
| Using time | no resistance of friction and scrape,color easy to fall,low rate of regular customers. | brightly saturated colors will never fall , the rate of regular customers is up to 90%. |
| Varieties of finished case | Only can print designs out, lack of personality | Over than 30 kinds of different effects, like mirrored crystal jelly ,glow in the dark, carbon fiber, leather skin and supper shining.etc. Getting more profits from different effects. |
| Ink and accessories life time | Special ink water with strong corrosion and odors. The printing head nozzles is very expensive and easy to be clogged , should change a new one in 1-2 months. | Normal ink water , no odors and corrosion. The printing head usually can be use in 2-3 years and never mind it to be clogged. |
| Overstock | Massive stock, should prepare any models of phone case . Increased the cost of stock. | Custom as customers needs , never mind of the stock and wasting cost. |
| Technical maturity | More and more manufactures give up to produce it, because of the immature technique. | Over 1000 users prefer to use normal printing machine technique custom personalized phone case, because of the proven technique |
| After sale service | Can not to be maintenance , because of no professional ink water and accessories in local. | Enjoy professional maintenance service, you can purchase accessories in local. |
DAQIN Mobile Case Design Software Function
Design software
Daqin mobile phone case design software was developed on 2002, which is a professional software for custom mobile case design, edit, print and cut. More than 10 years of technical accumulation and version iteration, now it's the most powerful, accurate, stable software of custom mobile case.
16 years of technical design iteration, numerous times of version update. More stable software and better service.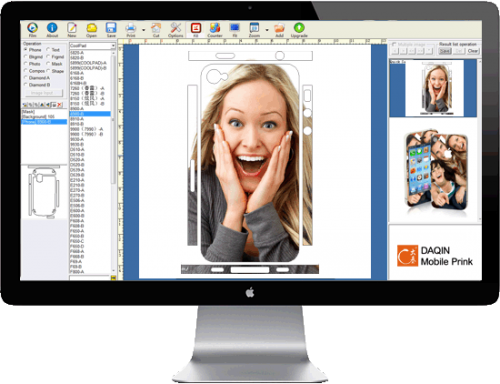 3,000+ Cutting Template
Each template has been tested by real mobile phone for many times,ensure perfectly fit every mobile phone and mobile case. Include templates for mobile case,iPad,tablet,laptop,gaming…etc.
5,000+ Image
Include bitmaps and vector graphics. 9 categories of image: abstraction,originality,animal,scenery,carton,comics,food,person,texture. Easily input picture, crop and edit.
Create/edit templates
Powerful tools for create and edit template, easily edit and modify cut templates, add text, picture, logo…etc. Easy DIY.
Effect diagram preview
Respectively,there are design view, cut view and composite view. Display final preview intuitively. Express customer idea accurately.
Free update
Currently for genuine software software users, monthly updates to add new template. All templates are encrypted.
Count management
Record date, time and models of print and cut. Count the most popular product.
Patents and copyrights
With design copyright and software copyright, no risk to use. Fight against pirated software and imitation software.
Knowledgebase centre
Including 300+ customer questions, 100+Training videos, and you can add the tickets.
Custom mobile case institute
Has the world's first focus on custom mobile case institute, more than 20 technical personnel service support.
Regional community
There are 10+ regions worldwide customer community, covering more than 130 countries around the world, more than 400+ cities, share together, market, creativity, know to do same business with people around the world.
Custom Mobile Case Solution
--Required Equipment--
Daqin mobile beauty master Ver.3D
A4 size cutting machine-A158
Above total:$2880
--Other Optional --
Printer & Laminator (Can buy in your local)
--Required Raw Materials-A4--
Printing & Lamination film
Texture skins
Customized phone case
Buy Now
Custom Mobile & Laptop Case Solution
--Required Equipment--
Daqin mobile beauty master Ver.3D
Daqin laptop beauty master Ver.3D
A3 size cutting machine-A168
Above total:$4280
--Other Optional --
Printer & Laminator (Can buy in your local)
--Required Raw Materials-A3--
Printing & Lamination film
Texture skins
Customized phone case
Buy Now
Mass Custom Mobile & Laptop Case Solution
--Required Equipment--
Daqin mobile beauty master Ver.3D
Daqin laptop beauty master Ver.3D
Graphtec CE6000-40
Above total:$5050
--Other Optional --
Printer & Laminator (Can buy in your local)
--Required Raw Materials-A3--
Printing & Lamination film
Texture skins
Customized phone case
Buy Now
Frequently Asked Questions