Smart Glass Screen Cut Machine

With 2 national patents! The first smart mobile tempered glass screen protector cutting machine in the word.
Patent No.201220389999.X
Software Patent No.2016SRO88546
Mass Die cutting is too much expensive
Customizing is faset and save money
open mold for screen protector is too mucn expensive.
it produces single model screen protector in mass quantity.
Can cut out multiple different models of screen protectors in on cutting.
Cutting 1 screeen protector is very easy.
High profit, To Make Money Fast

So far it's powerful screen protector editing software
DAQIN Automatic Screen Protector Cutting System is a system of automatically cutting screen protectors, which controlled by the professional design and management software that can transform abundant and latest cutting die into graphic data and can connect with the screen protector making machine  to produce screen protectors of PET/PVC fast and accurately. It solves the problem of supply screen protectors of small batch. The curve of cutting is natural and without rough edge.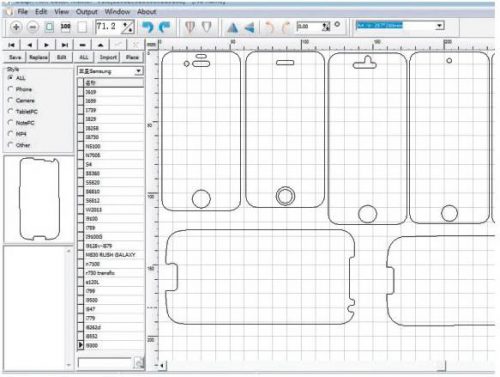 Easy operation, powerful functions
Free arrangement, automatic positioning, saving cutting material effectively.
Create/edit templates
Powerful tools for create and edit template, easily edit and modify cut templates, add text, picture, logo…etc. Easy DIY.
Patents and copyrights
With design copyright and software copyright, no risk to use. Fight against pirated software and imitation software.
2600+Cutting Templates
Abundant template data. Upgrading in time. Including the newest models of mobile phones and tablets;Any model, any shape, any brand. DIY template data for local brand of mobile phones.
The First Choice of Mobile & Accessories Shop
On-demand production, no worry of inventory control.
Smart Glass Screen Cut Machine
$2,200.00
All packing including:
Screen Protector Cutter with Newest smart edit software 1380 USD
Raw materials package 420 USD
Shipping freight 400USD
Packing Weight(kg): about 36kg
Shipping: via DHL\TNT\FedEX ,we will find best way for you.
Arrived days: 4-6 workday. for different city.
Guarantee: one year.