This article is generally about the introduction of how the first custom mobile phone stickers of iPhone 6 Plus are produced.
Firstly, let's have a look at the newest generation iPhone device.
The 4.7 inches and 5.5 inches versions iPhone have been released on 19th September, 2014. The smaller one called iPhone 6, while the larger one called iPhone 6 Plus. Compared with the previous iPhone device, the iPhone 6 improved a lot on both the appearance and the operating system.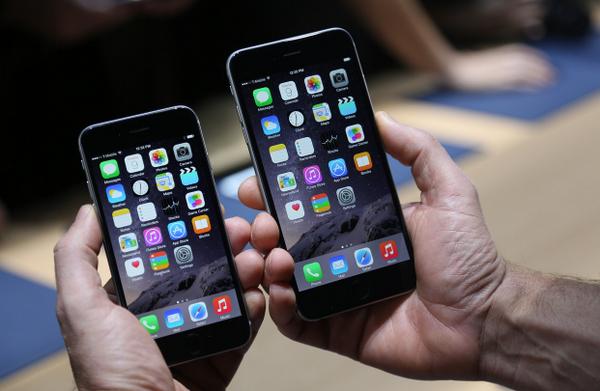 Secondly, let's see who is Daqin and how the custom sticker been made.
Daqin, as the international supplier of the software and machines to make mobile phone stickers, immediately produce the custom mobile phone stickers for iPhone 6 Plus on 19th September, 2014, when we get the original phone. What Daqin provide is the software and machines to produce stickers for mobile phones, rather than the stickers.

The custom cellphone stickers of iPhone 6 Plus was produced by the Daqin 3D mobile skin designing and making system. The whole kit contains: sticker designing software, printer, laminator, cutter and the materials.
1. The patterns on the mobile phone sticker can be any picture with the format of jpg, jpeg, bmp and png. Upload the custom picture into the software of Daqin 3D mobile beauty master Ver.2015 and then drag or zoom the picture until satisfied. Select the model of the mobile phone: iPhone 6 Plus.
2. Click print on the software to start printing. And then laminate a glossy effect (multiple effects available) lamination film to make it waterproof, anti-scratch and anti-abrasion.
3. Click cut on the software to start cutting.
4. Apply the sticker on the mobile phone.
The above process cost 3 to 5 minutes to make custom stickers for 3 sets of iPhone 6 Plus. Everyone can be a master of making mobile phone skins with the help of the Daqin 3D mobile skin designing and making system. Amazingly, this unique system in the world not only can make custom stickers for iPhone 6 Plus, but also any other brand smartphone in the world. Currently the software contains templates data of more than 3,000 models mobile phone in the world. Also the software will be updated monthly to add the newest models, so that it will always possible to produce custom stickers for the latest smartphones.
Daqin's solution is ideal for those small business owners who want to start or expand their business in the field of mobile phone stickers. So far, thousands of small business owners benefit from the Daqin's solution and earn great money by selling custom mobile stickers produced by Daqin's machines.