Sofia studies art design in the college for 2 years. This year she will leave the campus to start her own job. Since she likes painting, she decided to start her first job that related with painting. Also she likes to make small DIY artwork. It will be great if she could find a job that allows her to create some artwork with the skill of painting.
After some marketing research work, she decided to start the business of custom cellphone skins with her sister. Sofia draws hundreds of paintings for the designs of cellphone skins. Those paintings are created by software on computer, so that that electronic format of paintings will be perfect to make the cellphone skins.
Sofia doesn't like to do franchise business, instead, she want to make her own brand for the custom cellphone skins. At last she chooses Daqin from China. Daqin is a Chinese supplier that provides the software and machines to make custom stickers for all brands and models of smartphones. The software of Daqin allows drawing cellphone templates, so that for those rare brands cellphone Sofia can draw the cellphone templates by herself.
Thankfully, Sofia is a master for CAD, CorelDraw…etc. She could even draw other template for cutting, such as the charger, mouse, headset…etc.
It's not easy at the beginning of opening a cellphone skins store. Even though she has enough money to start this business, there are still lots of work to do. Such as design and decorate of the store, the marketing work and so on. Her store located near an entrance of a cellphone store, which is a perfect place for the cellphone skins business.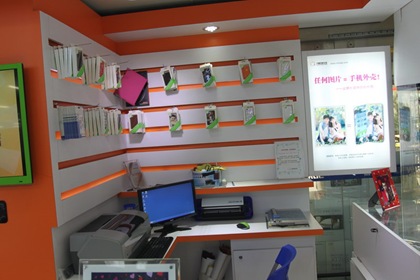 Except for the custom sticker for cellphones, Sophia also sells cellphone cases, screen protectors…etc. In this way, the traffic of customers becomes larger. For the Daqin's solution of making custom cellphone skins, the kit is called the Daqin 3D mobile skin designing and making system. It contains the software, printer, laminator and cutter. The software is a stand-alone version, which is installed on the Microsoft windows computer. The printer, laminator and cutter are all portable machines, which can be placed together with the computer on one table.
Thanks to Sofia's nice painting, the cellphone skins sells well. Also, there are many customers use their own photo or design to make the custom cellphone skins. With the help of Sofia's sister, in 3 to 5 minutes they could make custom cellphone skins for 2 sets of cellphones.